Scanners - Hand Held Products
Dolphin 7400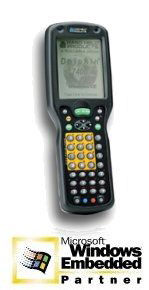 IQ Imaging with Advanced Linear Decoding provides instant point-and-shoot 1D; 2D bar code scanning,
captures signatures, and takes pictures.
Step into the next generation of portable data collection with the Dolphin ® 7400. The 7400 adds a Microsoft Windows CE T operating system to a modular portable hand held computer platform that features 3 choices of keypads, large quarter-screen display, high-performance Intel ® StrongArm T processor, as well as up to 320 MB of memory, and optional touch-screen capability.

The Dolphin 7400 has a rugged design that can withstand multiple 5' drops to concrete and shares similar single-handed use design with the popular Dolphin ® 7200 family of hand helds. Central "scan" and "enter" buttons enable use in left or right hand and a secure hand-shaped grip with integrated elastic hand strap make it easy to use. The 7400 meets varying needs in challenging environments of transportation, logistics, warehousing, delivery and route sales.

Available with a choice of 3 integrated imager options, the Dolphin 7400 reads 1D and 2D symbologies (PDF417, MaxiCode, QR Code and Data Matrix) and lets you record .GIF and .JPEG images of shipping manifests, recipient signatures, and damaged cartons

The 7400 computer uses IQ imagingT, a suite of features unique to matrix imaging technology that includes enhanced signature capture, improved picture taking and superior data capture.

Microsoft, Windows, and the Windows logo are registered trademarks of Microsoft Corporation in the United States and/or other countries.