Imageteam 5600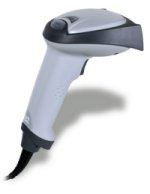 Retail/Commercial Hand Held Linear Imager
HHP's exclusive imaging technology provides breakthrough performance in the IMAGETEAM (IT)5600 linear image. The most powerful linear imager ever produced, the IT5600 excels at read range, reading poor quality bar codes, and is extremely durable.

The IT5600 has a read range out to 24 inches on bar codes used in retail applications making this a good choice for POS applications where heavy or bulky items are being scanned.

The IT5600 is built to last, with full perimeter bumpers, GE Lexan® housing and a 5 year warranty.The IT 5600 linear imager goes the distance in today's retail and commercial applications.