Dolphin 7200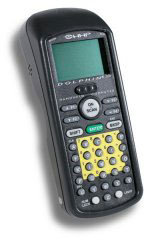 Reliable, Rugged Design (IP64) - Survives 5-foot drops to
concrete. Operates in harsh environments and withstands
rough treatment.
The Dolphin® 7200 is a rugged, pocketsize computer and bar code scanner with an open DOS architecture and up to 12 MB of memory. Ergonomically designed for both right and left-handed use, the Dolphin 7200 is available with a variety of integrated scanning options for exceptional performance on all major linear bar code symbologies.