Dolphin 7200 RF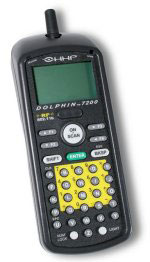 Dolphin RF works with all WLIF-compliant products to
allow network expansion as needed.
This wireless version of the popular Dolphin terminal includes an integrated 2.4 GHz DSSS (direct sequence spread spectrum) from Cisco Systems® radio for real time data communication. Up to 128-bit WEP (Wired Equivalent Privacy) encryption provides a level of data security equal to traditional wired LANs for both small businesses and the enterprise. Rugged and pocketsize, this bar code scanner/computer is designed for the rigors of portable applications.

Dolphin RF is easy to use, sturdy and weather resistant, making it ideal for use indoors and out. Dolphin 7200 RF also features a patented ergonomic design, up to 10 MB of memory, and an open DOS architecture."