Imageteam 3800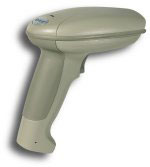 Very durable and dependable imager with a 5-year warranty
The IMAGETEAMT 3800 is a high performance, hand held bar code reader. Using unique, linear imaging technology, the IT3800 sets a new standard in automatic data collection by combining a bright, sharp aiming line with high resolution imaging to deliver exceptional performance in any environment. The IT3800 handle is smoothly contoured to fit all sized hands, and has a soft grip area to add comfort and prevent slippage.

The IT3800 connects to all popular PCs, Apple MAC, and portable data terminals. Models are available for IBM retail terminals (4683/93, OCIA) and for PDF417 applications as well. Available in both black and beige, the IT3800 is ideally suited to retail point-of-sale, in-store inventory, document management, transaction processing, and vehicle registration applications.
A PDF verison of the scanner is available. All Imageteam 3800 scanners come with a 5 year warranty.